If you are homeowner being impacted by the Southside Connector Distribution Project please contact our firm for a free consultation as to your rights!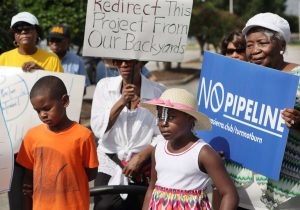 Photo From –The Virginian-Pilot
Around 100 Indian River residents protest for 2 hours over proposed natural gas pipeline in Chesapeake
By Victoria Bourne
The Virginian-Pilot
The message from some Indian River residents on Wednesday morning was unequivocal and clear:
"No pipeline in our neighborhood! No pipeline in our neighborhood!"
For two hours, around 100 protesters of a proposed natural gas pipeline chanted a similar refrain, holding homemade signs that elicited honks from passing cars on Providence Road in front of the Holly Point Shopping Center. It was one of three protest locations in Indian River and South Norfolk .
Susan Lambert waved a large American flag. She's heard about pipelines elsewhere "(but) when it hits your backyard, that's hard. That's why we're out here."
Dubbed the Southside Connector Distribution Project, Virginia Natural Gas wants to build a roughly 9-mile pipeline from Norfolk to Chesapeake that company officials said will fill a gap between two main supply lines. A 24-inch pipe will be installed at least 3 feet deep and cross under the Elizabeth River. Construction is set to start in October and be completed by fall 2018.
Residents from Georgetown-area neighborhoods said they worry about potential hazards – explosions, fumes and undetected gas leaks – and about their property values. They want the company to find an alternative route, away from densely populated areas, they said. And they'd like to get the attention of Gov. Terry McAuliffe and other elected officials.
John Denham said he wants to ask them whether they'd want a pipeline going through their backyards. Rufus Banks Sr., who led a group prayer before the protest, said companies should think beyond the money a project could make and consider the "human factor" and how people's lives can be affected.
In Norfolk, the pipeline will run along about three miles of city right of way, but once it crosses into Chesapeake, it would use an existing Dominion Energy utility corridor, a route that gas company representatives have said is the safest and least disruptive. They promised regular inspections, monitoring and other precautions.
The gas company is seeking to acquire about 80 residential and commercial easements from both cities, as well as a finalized encroachment agreement with Dominion. Some of the Chesapeake neighborhoods where easements are being sought include the Holly Point apartment complex, Holly Glen off Georgetown Boulevard and Sunrise Hills off Campostella Road in South Norfolk.
Alma White hoped the Providence Road protest would get the attention of the tenants in the Holly Point apartment complex across the street, who in turn would encourage the owners to say no to the gas company.
"This is really important," state Sen. Lionell Spruill Sr. told the protesters, adding that what affects one part of the community, affects all of the community. "Let's stick together."
Spruill also told the group that Attorney General Mark Herring would be at Better Life Church at the corner of Campostella and Atlantic Avenue from 8:30 to 9:15 a.m. Sunday to hear people's concerns and talk about what, if anything, can be done to stop the pipeline.
The State Corporation Commission is the governing authority for the pipeline. George Faatz, the gas company's director of government and community affairs, has said acquiring easements by way of eminent domain is an option of last resort.
"I am so emotional about this," said Virginia Bonds, a Sunrise Hills resident of more than 45 years whose home backs up to the proposed route. She was one of at least 20 protesting outside the South Norfolk neighborhood of townhouses and single-family homes on Wednesday.
Bonds said she knows it's cliche, but she doesn't want a pipeline running through her backyard. They already have electrical lines and transmission stations to deal with, she added.
"We want them to know … this is not a dumping ground," Bonds said.
Theresa Peeples, a Sunrise Hills resident of more than three decades, said adding the pipeline is too much to ask of one community. And it's no time to be complacent, she added.
"Save your signs," Peeples told the protesters as they dispersed at noon. "We may have to do this again."
Share this post: