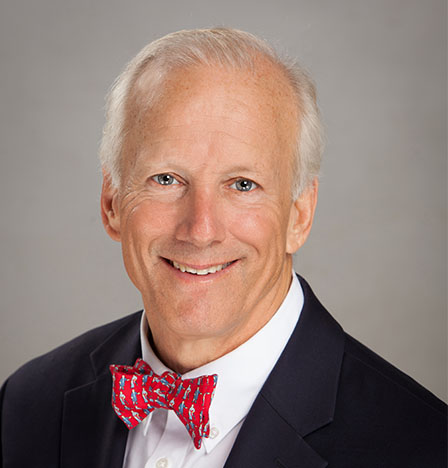 Charles "Chuck" Lollar, Sr.
Attorney
Chuck has a passion for property rights and has dedicated his career to representing owners in eminent domain and property rights matters.  Chuck has represented a variety of landowners including farmers, retail and commercial business owners, real estate developers, investors, and owners of other types of private property, ranging from Fortune 100 companies to small businesses and homeowners.
Chuck advises his clients throughout the condemnation process, from the announcement of a public project to the disbursement of monies paid for just compensation. He contests the power of condemning authorities to acquire private property where public use is not apparent, and pursues inverse condemnation claims arising when private property is acquired without the payment of just compensation. He handles these claims in state and federal courts in both Virginia and North Carolina. Since his first property rights trial in 1977, Chuck has tried many condemnation cases to a jury.
Chuck has a strong background in commercial real estate and real estate litigation which he calls upon to enhance his property rights practice.  A seasoned speaker and author, Chuck has lectured regularly on eminent domain and property rights at state and national conferences and has penned a number of expert articles on these topics.
Professional Memberships
­
Virginia Bar Association
American Bar Association
Virginia State Bar Association (Chairman of the Eminent Domain Committee)
Norfolk & Portsmouth Bar Association
Publications
­
Working to Find Workable Resolutions: Settling Cases Early to Protect Your Clients Resources and Limit Their Exposure, Address Before the Eminent Domain Conference of CLE International
Issues That Impact Your Daily Practice: Why Doing What's Right Protects Your Practice, Address Before the Eminent Domain Conference of CLE International
The Input of Zoning in the Valuation Case: How Zoning Plays Out For More or Less Just Compensation, Address Before the Eminent Domain Conference of CLE International
Ethics Considerations for the Eminent Domain Practitioner, Address Before the Eminent Domain Conference of CLE International
Trial Techniques in Just Compensation Proceedings: What Will the Jury Members Know and How Will they Know It?, Address Before the Eminent Domain Conference of CLE International
Voir Dire: Selecting the Judges of Just Compensation, Address Before Condemnation 101 Conference